Camel Store franchise featured in Smart Investor
A leading business magazine, Smart Investor published by Panpac Publications
(M) Sdn Bhd featured an interview with Delta Franchise System on Camel Store franchise.
The complete story was published in Smart Investor . You can make inquiries on the purchase of back copies of Smart Investor by contacting Panpac Publications (M) Sdn Bhd or e-mailing us for assistance.
---
CAMEL STORE YEAR-END SALE
Expect some bargains from our Camel Store Year-End Sale held nationwide from November 27 till December 13th. As usual, we will have "Up to 50% discount" on some products.
---
Camel Store Penang to move

The first Camel Store in Malaysia, located in Penang Plaza, will move to its new location in Penas Megamall (Butterworth) soon. Customers of the store on the island can patronize Camel Store at Island Plaza in Tanjung Bungah instead of going across to the mainland.

The new location is owned by the franchisee for Penang. Details of the new location will be released online when the outlet is near completion.
---
OTHER NEW PRODUCTS THIS MONTH
T-Shirts with prints - Adventure Long Pants - Shorts
Entire new range of jeans
---
The Birthday Voucher will be implemented within the next month or so. Cardholders who have submitted their birthdates and valid addresses will receive the voucher. If you have not given us your birthdate or would like to update your address, go to our CSPC Update page here.
---
Contact us
Your commentsand inquiries are most welcomed.

Tell us what you think ...
Camel Trophy Adventure Wear range exclusively at Camel Stores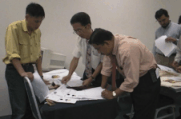 Camel Store franchisees looking at the designs of the new range which is only found in Camel Stores. This exclusive collection featuring various shirts, t-shirts, pants, vests and jackets is expected to hit the stores in December '98.
Watch out for this exciting new range.
Click the picture to see the catalogue.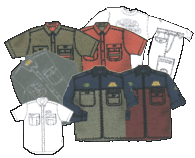 Click here to view the line drawings.
Keen interest for Camel Store franchise at MAFEC '98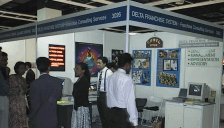 The number of enquiries received at the recent Malaysian Franchise Exhibition and Conference held in PWTC for Camel Store franchsie was encouraging.
Despite the economic situation there were serious enquiries from a number of parties. With a good track record in franchising, Camel Store hopes to expand to a few more stores next year.